Google Tag Manager (known as GTM) is a tag management system owned by Google. With Google Tag Manager, you can manage all of your website JavaScript and HTML marketing tags in one place without having to modify the code. Google Tag Manager can help you improve your ad campaigns and optimize your media spend through your main objective.
How Google Tag Manager Improve Your Ad Campaigns?
The most important benefit of Google Tag Manager is the control you have over the tags you use. You can change and update tags according to your marketing plan. When you use Google Tag Manager you can place Marketing tags (snippets of code or tracking pixels) without having to modify the code.
In other words: you don't need your website developer to place a tag or pixel for you.
For this reason, online marketers absolutely love to use Google Tag Manager. Google Tag Manager is used alongside Google Analytics, Google Advertising, and other Marketing tools by Google like Doubleclick.
Your Tag Manager container is a single repository for all of your marketing tags
Set your retargeting pixels in order to create Retargeting campaigns. For example, your Facebook pixel will be placed in your Google Tag Manager container. It will match your page visitors to Facebook users.
Set up your website conversion events such as: Fill a form, find a store, complete a purchase, or subscribe to an email list.
Set up your online campaign goals to make sure your media budget will be optimized for the desired action.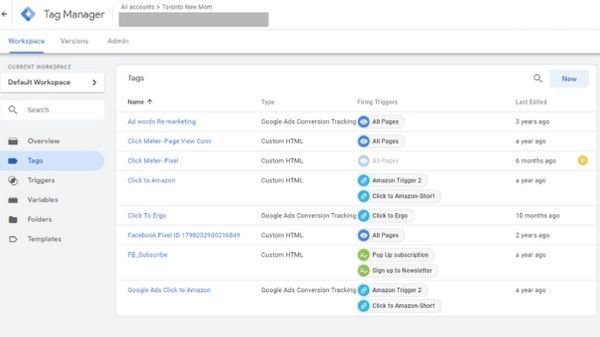 Here is an example of how to use Google Tag Manager as part of your Digital Marketing strategy
David is a personal fitness trainer who would like to expand his business. On his website, he has created a "Contact me" form so people can reach him.
In his Google Tag Manager container, David set up the form as an event. Every time someone completes a form, it counts as a website conversion.
David set up a Facebook campaign in order to reach new clients. He placed the Facebook site pixel in his Google tag manager container and set up the form completion as a goal/objective for his campaign. When David sets up his new FB campaign, he asks Facebook to optimize his media spend to have as many contact forms filled out as possible. Facebook will now serve ads to users who are more likely to fill out the contact form (and become paid customers).
Therefore, David will get more new customers without needing to increase his Media budget.
Click here to create your own Google Tag Manager account
---
If you like this post and you would like to read more content about Digital Marketing, subscribe to my mailing list here