In the last ten years, the Digital Marketing world has changed dramatically. From running ads targeting a geographic location only, we have come a long way to have today's multi-layered, sophisticated targeting.
With the right targeting, we are able to show the right ad to the right people at the right time!
---
Digital Ad Campaign Targeting Methods
There are two main methods of ad campaign targeting: Prospecting and Retargeting.
Prospecting is any activity in which you target users who have not yet visited your site.
It attracts new potential customers based on many different targeting tactics. The most common targeting tactics for Prospecting are targeting by keywords, interests, and topics.
Retargeting is an activity in which you show ads to people who have previously engaged with your website or digital assets.
You can re-target people who just visit your site once (pageview), people who purchased before or engaged with your digital assets in any way.
To retarget those people, you would need a data-based targeting tactic like a site pixel or an audience list.
Now that we know the two different methods of targeting, let's dive into the many different options for targeting tactics.
---
Digital Ad Campaign- Prospecting Targeting Tactics
Targeting Tactic: Search Keywords
Words, terms, or phrases that a user will actively search for within a search engine (such as Google and Bing). This option is only available for Search Engine Marketing (SEM).
Targeting Tactic: Display Keywords
A targeting option for Display Prospecting Media. Show your ads on websites that are contextually related to the keywords you've chosen.
Targeting Tactic: Placements
Choose specific websites and apps you would like to show your ads on.
Targeting Tactic: Topics
Choose specific topics from a given list. Your ads will appear on websites related to those topics.
Targeting Tactic:Demographic
Narrow your audience to a specific demographic group. Demographic targeting includes gender, age, parental status and household income.
Targeting Tactic: Location
There are a few options for targeting by location:
Specific countries, cities, or zip codes.
Radius from a specific location.
People who visit a location, but don't live there.
Targeting Tactic: Devices
Display your ads on a specific device: desktop, mobile, tablet or smart TV. Choose from specific mobile software (Android vs iOS) or mobile devices (Samsung / Apple /LG, etc.)
Targeting Tactic: Ad scheduling
Set your ads to run on specific days and during specific hours.
Targeting Tactic: Custom Intent Audience
Choose keywords and URLs related to products and services that your audience already likes. Using this tactic, you can target users who are interested in your competitors.
Targeting Tactic: InMarket Audience
People interested in purchasing items or services in a specific market. An example of the available options are computers, electronics, education, cars and more.
Targeting Tactic: Affinity Audiences
Choose from a list of topics. The topics to choose from are extensive. For example: food, beauty, banking, and more. Affinity audiences are a good fit for an awareness campaign.
Targeting Tactic: Geo-fencing
Geo-fencing targeting is a newer targeting tactic. To use this method, you define an actual location you would like to use. This location can be your store, your neighbourhood, your competitors' stores, or a conference center. When a person gets into the actual boundaries of your geofencing targeting in the physical world, your ads will be served on their mobile device.
Targeting Tactic: Interests
Choose from a list of interests. Interests are more specific than topics. Like a baby carrier, a passion for online shopping, baby gear.
Targeting Tactic: Contextual
Display your ads according to the content of the webpages.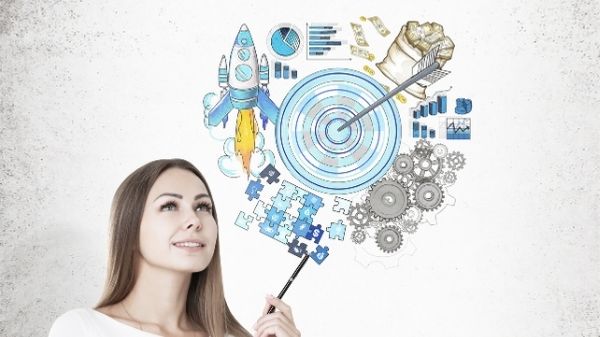 ---
Digital Ad Campaign- Retargeting Tactics
Retargeting by Audience list
Based on your customer or potential customers' data. The list should include data such as email addresses, phone numbers, names, addresses, and other personal information.
When you upload your list into the ad platform (or by using your DMP), the ad platform will match your data to the platform data. You will only serve your ads to the people on your list.
Retargeting by Site Pixel
First, you implement an ad platform site pixel on your website or in your GTM container. Second, the ad platform will start to store data about the users who have visited your site.
Using the site pixel, you can retarget users who have visited your site in the past and didn't purchase or complete the desired action.
Remarketing
Target people who have purchased before. The user's data will be taken from your CRM (customer relationship management tool) along with their email address and login info (if login is needed). Remarketing is often used to describe Email Marketing. When you invite your customers to purchase again.
Lookalike / Similar Audience
Lookalike targeting (on Facebook) and Similar Audience targeting (on Google) is based on your customer or potential customers' data. By using the lookalike tactic, the ad platform creates a list of people who are very similar in many different aspects to your audience.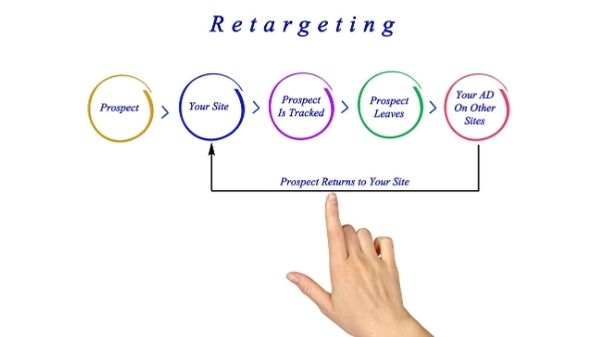 ---
Narrowing vs Expanding Your Targeting Ad Campaign
When you set up your ad campaign, be aware that there are two options for adding targeting tactics.
When you add more targeting options you can narrow down your audience or expand it.
Let's say your perfect customer is interested in 2 topics: Meditation and Yoga.
Narrowing: You target people who are interested in both topics.
Expanding: You target people who are interested in one of the topics.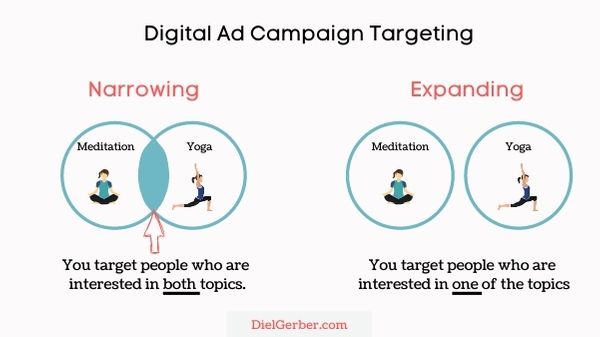 Whatever you choose, make sure that it is aligned with the people you would like to target.
Narrowing down will limit your reach, but will increase the quality of the users that you find.
Expanding will increase your reach and the number of impressions allowing you to reach more people.
---
If you like this post and you would like to read more content about Digital Marketing, subscribe to my mailing list here