There are many benefits to building your first blog with WordPress. In this article, I will walk you through the main benefits for choosing WordPress for your first website. If you are considering WordPress for building your first blog, let me explain why you have so many reasons to do so.
In this blog post, I am referring to WordPress.org, and NOT WordPress.com, which is a different solution. If you would like to read more about the difference between WordPress.org and WordPress.com, you can check out my previous blog post here.
---
Why You Should Choose WordPress For Your First Website
Here are the main reasons why you should choose WordPress for your first website.
WordPress is Made for Bloggers
Blogging is the BEST content management system for bloggers. If you are a blogger or if you would like to have a content-based website with lots of informative content, WordPress is your number 1 choice.
SEO: Search Engine Optimization
WordPress is the best website builder platform if you want your website or blog to be ranked on Google Search. Because WordPress is focused on content and posts, your content will be easy to find.
With WordPress SEO Plugins like Yoast, it is easy to manage your SEO settings and make sure that every blog post is fully optimized.
The last thing you want to do is spend your time building a website that no one can find…
Low Cost
WordPress.org is a FREE platform as long as you have your own domain and hosting. There are lots of free plugins you can add, and beautiful free themes to choose from.
Yes, it does require prior knowledge, but once you understand and know how to navigate WordPress, your options are unlimited.
Friendly Content Management System
WordPress is basically a Content Management System (CMS). Therefore, it is easy to set up a new page or a new blog post. Once you've calibrated all the different settings for your WordPress site adding a new blog post is easy as setting up Google Doc or Word doc.
Manage Users
When you're working with WordPress, you can add users to help you manage your website, or give access to writers and contributors. When I started my first blog Toronto New Mom, I couldn't imagine how fast it would grow. A few years later, I added a team of bloggers to my blog and since I used WordPress, it was easy to grant access to everyone.
Growth Opportunities
Having growth opportunities is one of my favourite things about WordPress. When you build a website with WordPress, the options are unlimited. You can start by having a blog and then add a Forum, Magazine, or even a store! You can sell digital items and also turn it into a membership site!
The digital world is constantly moving, and you need your blog or website to move fast too.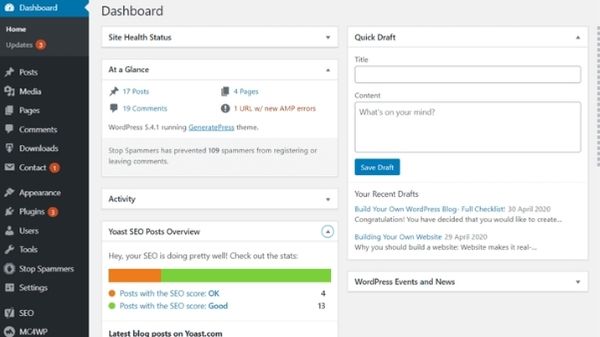 ---
If you like this post and you would like to read more content about Digital Marketing, subscribe to my mailing list here