If you ever wondered what CPC or CPM stands for, I'm here to help you with my Digital Ad Campaign Glossary.
In the Digital marketing world, there are so many shortcuts and abbreviations that we use. If you are looking to set up your very first Ad campaign online, all those words can be very confusing. I have listed below the most common Digital marketing terms which will help you with understanding your ad campaign.
To download the Digital Ad Campaign Glossary as a printable PDF, click here
---
Digital Ad Campaign Glossary
CPC: Cost Per Click, the price you will pay for each time someone clicks on your ad.
CPM: Cost Per Mille. The price you will pay for 1K impressions.
Conversion: The action that you have defined as valuable to your business, such as an online purchase, or a call to your business from a mobile phone.
Conversion rate: The percentage of visitors who take the desired action from the people who visit your website or see your ad.
CPA: Cost Per Acquisition. The cost you will pay for each Acquisition. An acquisition can be defined in many ways including signup, purchase, lead and more.
CTR: Click-through rate.The ratio of users who click on a specific link compared to the number of total users who view a page.
ROAS: Return On Ad Spend or Return On Advertisement Spend. ROAS is used to determine media effectiveness. It is how much you've spent, divided by how much you earn from a specific ad or tactic.
ROI: Return On Investment. ROI is calculated by taking how much you spent and dividing by how much you've earned from a specific ad or tactic.
CTA: Call to action. Text that urges the user to take the action you would like them to perform.
Examples of CTA: Learn More, Buy Now, Watch Now, Sign Up.
Campaign Objective: Campaign's Main Goal. What goal are you trying to reach with your ad campaign? Can be: Awareness of your brand, Sales, Leads, Clicks, Video watch.
---
Digital Marketing Methods
SEM: Search Engine Marketing. These are the ads that will show on search engine results pages
SEO: Search Engine Optimization. This will help your pages ranked on search engine results pages.
Affiliate Marketing: This is a marketing arrangement by which an online retailer pays a commission to an external website for traffic or sales generated from its referrals.
Display Media: Images, HTML5 and rich media ads. It usually refers to Prospecting or Awareness Ad Campaigns.
---
Type of Ads
Display ads: Images, HTML5 and rich media ads. Display ads are a type of ad format.
Text ads: The type of ads that will appear on search engine results pages with SEM.
Responsive ads: Ads that automatically adjust their size, appearance, and format to fit available ad spaces
Native ads: Automatically matches the ads to the form and function of the platform on which it appears. Used mostly within articles and blog posts.
GRA: Google Responsive ads. These are Responsive Ads specific to Google.
GSP: Gmail Sponsored Promotions. Ads will appear as a new email inside a user's Gmail inbox
---
Media Buying
RTB: Real-Time Bidding. This is a method of purchasing Display ads. Used by Expert media buyers and required to use Ad exchange platforms like DBM.
Ad Exchange: A real-time marketplace used to buy and sell display advertising spaces.
DMP: Data Management Platform. With DMP marketers can manage their audience data in one place and better target/serve their ads across different DSP's
DSP: Demand Side Platform. A software platform used by digital media buyers to help manage their programmatic ad buying across different ad exchanges.
---
Google's Platforms
GDN: Google Display network. GDN ads will show on various websites across the internet, as well as YouYube.
GTM: Google Tag Manager. Used to place Pixels and set up conversions on a website for digital marketing purposes.
DCM: Doubleclick campaign manager. Platform Owned by Google to manage ad campaigns. Because of its high cost, it is usually used by Ad agencies and Media companies.
DBM: Doubleclick Bid Manager. An RTB and DSP platform owned by Google. Because of its high cost, it is usually used by Ad agencies, Media companies, and corporations.
GA: Google Analytics
---
Targeting Methods
Click here for my Paid Media Targeting guide
DSK: Display Select Keywords: This is a Targeting option for Display Prospecting Media. You choose which keywords are relevant to your customers and then only show your ads on websites that have contextually related keywords.
Search KW: Search KeyWords: A targeting option for SEM. Show your Text ads on the search results pages when users actively search for a specific keyword.
SRT: Site Retargeting. Show your ads to people who have visited your website previously or taken any action with your product before. Based on a Website Pixel or audience list.
Remarketing: Show your ads to people who have previously purchased or taken the desired action on your website. The most common tactic for Remarketing is Email Marketing.
In-market: Reaching users who are actively researching or comparing products and services in a specific market. This is usually restricted to large purchases such as cars or mortgages.
Prospecting– Target potential new customers who have never visited your site before, but are likely to convert. There are many different targeting methods to use for prospecting.
This is all for my Digital Ad Campaign Glossary. I hope it will help you in your daily digital marketing efforts.
---
You can download my Digital Ad Campaign Glossary as a printable PDF. Just click the download link below and a PDF file will be sent to your email address for FREE.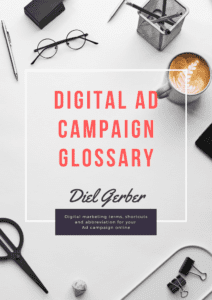 Digital Ad Campaign Glossary
---
If you like this post and you would like to read more content about Digital Marketing, subscribe to my mailing list here